I still haven't gathered the strength of stomach to read or watch the speech yet. Fascinated by what a non-news story it is. We had back-to-school curriculum night last night as did thousands of school districts I'm sure and I made the right choice. I will read the bill when there is one. One revelation seems to be that Obama had another half-tril of cuts he was willing to make but was hiding and saving those to offset new spending. We will see. This time maybe we can pass the cuts and skip the new spending and 'revenue enhancers'.
It seems to me he set his own trap and caught himself being the anti-jobs, anti-growth, anti-private sector president that he is. It was a mistake to draw attention to his worst quality. 'Pass it and I'll tell you what's in it.' Should instead have made one more speech on the killing of OBL, then say he needs to spend more time with family - and golf without criticism - and will not be running again.
People with better senses of humor than me set out to enjoy the pre-game speech with BINGO boards and drinking games. Let's drag out the film and pass out the board markers. See how many you can get: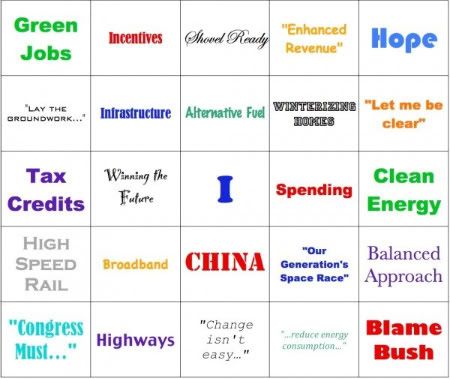 Bingo!