When did wages grow under Pres. Bill Clinton? Only after passing pro-growth policies.
When will wages grow under Hillary Clinton if she wins and keeps her promises? Never.
The facts of the Clinton economic growth record: Bill Clinton's presidency gets credit for some impressive private sector growth but the lion's share of it came in the last 4 years after he co-opted the Republicans economic agenda. See chart below.
Bill Clinton's economic policy achievements:
1) Passed NAFTA with majority Republican support, majority Democratic dissent. Took effect 1994.
2) Passed Welfare Reform with majority Republican support, lacking majority Democratic dsupport, 1996.
3) Passed Capital Gains Tax Rate cuts with majority Republican support, 1997.
Hillary Clinton -
1) opposes free trade, 2) opposes welfare reform, and 3) wants to raise taxes further than Obama did on investment, and crush our fragile growth.
Bill Clinton's economic results:
Venture capital grew 6 fold over 1995 levels in the years following the capital gains tax rate reductions.
Real wages, however, grew at 6.5 percent rate after the Bill Clinton-Newt Gingrich capital gains tax rate cuts compared with 0.8 percent growth rate after the Bill Clinton tax rate hikes of 1993.
http://www.heritage.org/research/reports/2008/03/tax-cuts-not-the-clinton-tax-hike-produced-the-1990s-boom
Hillary Clinton now opposes the pro growth policies that worked for Bill Clinton.
Bill Clinton -
Not satisfied with growing the private economy and balancing the federal government, returned to big government ways, attacked America's most successful company Microsoft in March 2000 with a DOJ lawsuit that triggered the tech stock crash of 2000 and the 2000-2001 recession. Growth ended, see chart: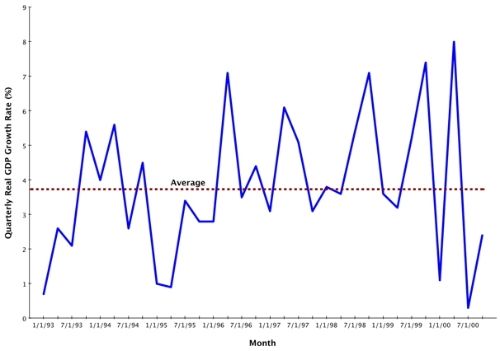 Chart source: Washington Post
https://www.washingtonpost.com/news/wonk/wp/2012/09/05/the-clinton-economy-in-charts/
Hillary Clinton opposes all the policies that accelerated economic growth, favors all policies tied to big government growth, is running to continue Obama's slow growth, low growth polices.
Insanity or deception? Candidate Hillary promises the results of the Bill Clinton administration while rejecting the policies responsible for that growth.