Capriles just wound up a press conference with the international press corps present, asking for a recount of the vote.
It seems the government wants to rush through the proclamation of Maduro without doing the recount. Capriles has asked publicly that people go to the state level electoral offices asking for a recount saying it's a local responsibility to do so. Should the recount not happen then he is calling for people to go to the national offices of the electoral body (CNE) to ask for the recount. In addition, he has asked people to join a cacerolazo (pot banging) tonight at 8 PM should there e no response from the CNE by then.
This is the closest call I have heard not to civil disobedience but to a public demand for a recount. Will the CNE accept? Will they call out the riot police to stop the people from asking for their rights? This could turn ugly quickly.
Capriles made the point that at least a million votes changed from Chavez in October to Capriles yesterday, proof that even Chavistas have had enough.
Capriles is a pretty good speaker. This isn't over as I feared yesterday. The game of chicken is now in force. Who will blink first?
I believe this is earlier news:
Henrique Capriles Wants Vote Recount in Venezuela Elections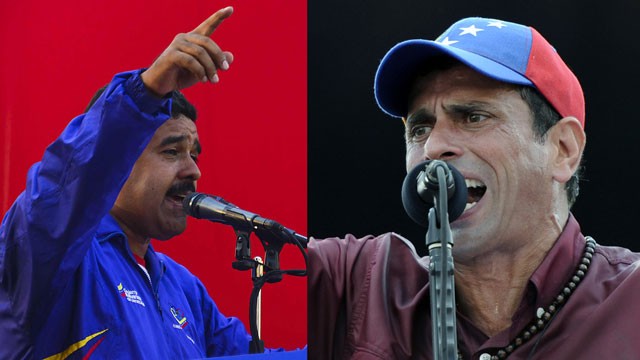 By MANUEL RUEDA (@ruedareport)
April 15, 2014
Henrique Capriles, has refused to accept the results of Sunday's presidential election in Venezuela until votes are fully audited.
According to Venezuela's National Electoral Council, Capriles, the opposition candidate, obtained 49 percent of the votes this weekend. That means he lost to government candidate Nicolas Maduro by just 1.5 percentage points.
Capriles claimed there had been hundreds of violations at voting stations across Venezuela on Sunday and asked for a full recount of the votes before he would accept defeat.
http://abcnews.go.com/ABC_Univision/News/venezuela-elections-henrique-capriles-vote-recount/story?id=18948330#.UWxRHkZzrOk