Thank you. I will do my best to get this published and circulated. Will link and keep you informed. Secondly, please let us know by private message what we can send under what labeling to you.
-------------------------------------------------
Prohibited Imports in Venezuela, August 21, 2017, from verified, local, first-hand source:
"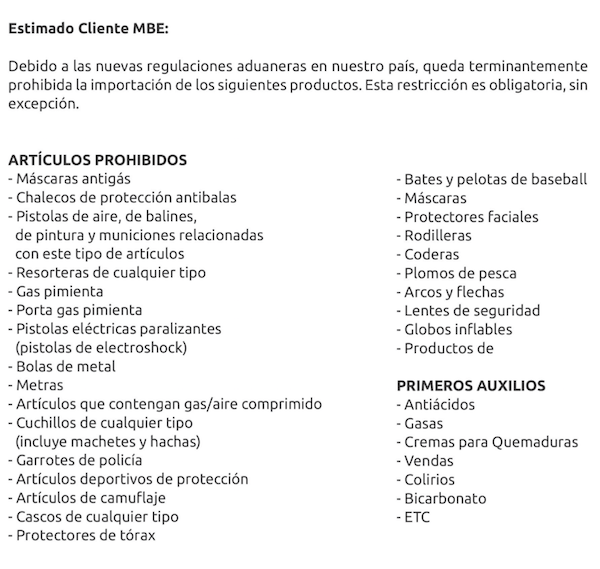 Now under Maduro we have a new prohibition, importing anything that protects against riot police such as gas masks, bullet proof wests, metal balls and marbles (could be used as projetiles), knives, sports padding gear, helmets, etc.
But it goes even further: Banned first aid stuff:
Antacids, gauze, cream to treat burns, bandages, eye drops, bicarbonate, etc.
I asked a drug importer to bring me milk of magnesia. Sorry, antacid, banned article! I don't have an issue with the riot police, I'm CONSTIPATED. Tough! Eat prunes.
Here is the list from my courier service. It would be wonderful if you made it available to blogs and the American press."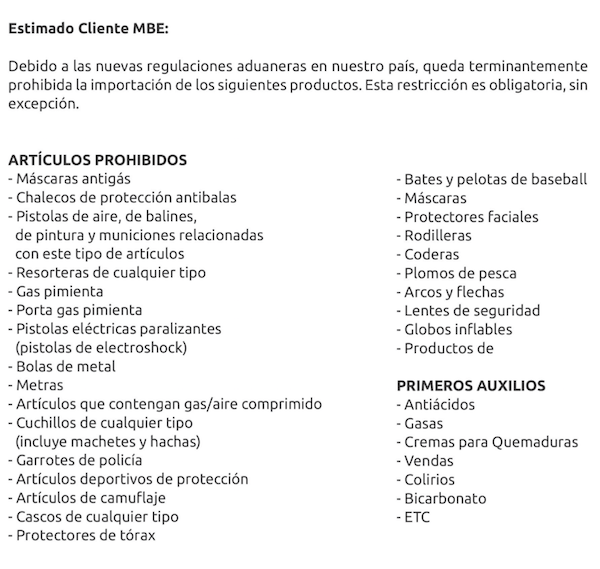 Carriers have to make sure these items are not shipped in, NO EXCEPTIONS.
This is an abuse of human rights!
Can someone please try to convert the image to text. I would like to translate the list to English for distribution in the US.