The Gathering of the Pack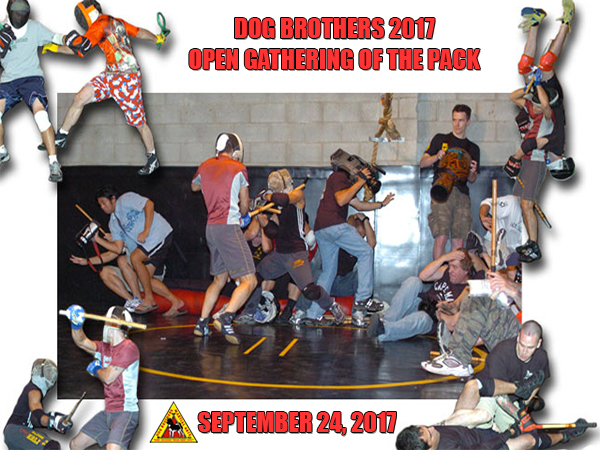 Dog Brothers Open Gathering of the Pack
September 24, 2017
Howl of Greeting:
The rhythm of the seasons is with us and it's time once again to come together to cross sticks. On behalf of the Council of Elders of the Dog Brothers, Dog Brothers Inc. we hereby cordially invite all people of good spirit to the "Dog Brothers Open Gathering of the Pack" beginning at 11:00AM on Sunday, September 24, 2017 at:
Gokor Chivichyan's Hayastan MMA Academy
7299 Atoll Ave
North Hollywood, CA 91605
Google Map
Parking: Due to the rather small size of The Hayastan Academy's parking lot most of you will be parking on surface streets.
Audience: The viewing experience here is the best we've ever had with bleachers and a balcony available for seating. Spectator admittance is $20 with all kids 6 and younger free.
Merchandise available: Please remember that this will be a good opportunity to pick up our DVDs, sticks, clothing and other items at special prices.
Audience Safety Issues: Due to the nature of the event, we cannot guarantee your safety. Sticks, and fights for that matter, may go flying into the crowd. Parents should keep this in mind when accompanied by a child and when deciding on the best, and safest, location to observe the event. If a stick or a fight comes careening your way know that the fight has right of way– it is on you to get out of the way! The same liability waiver that applies to the fighters applies to you too.
Photography and video: NO CAMERAS ALLOWED. Anyone violating this policy will be asked to leave. A photographer will be present to take pictures of the fighters. These pictures will be made available at no cost. If you see someone filming, please let us know!!! We are very appreciative when you help look out for us!
FIGHTERS:
Gathering Day is too busy a day for us to be dealing with paperwork. The fighter registration form must be submitted prior to the day of the Gathering. Your name must be on the Registered Fighters List or you do not fight. Contact info@dogbrothers.com 310-540-6853.
Two sides of the fight area are padded walls, one side is a cage fight type fence, and the fourth side is a waist high version thereof. If this is your first time, take a look at the highlight clips from recent years to get an idea of what it looks like. Please note that our host Gokor takes the cleanliness and condition of his fight area VERY seriously. Therefore, ONLY wrestling shoes (white soled preferred) or bare feet will be allowed. You will be required to remove them before exiting the fight area and put them back on upon returning, so having sandals of some sort with you is a good idea.
Please note, hosting such an event does not come cheap. Renting a location, attaining insurance, hiring a cameraman/photographer, and the like, all come with their own expenses. To cover these expenses, we ask for a donation of $40 per fighter. If you have not paid yet,
please submit your payment using the Buy Now button on this page.
Concerning fight gear: Please be sure to read "The Moth and the Flame" at http://dogbrothers.com/phpBB2/index.php?topic=2438.0 Concerning the fight knives seehttp://dogbrothers.com/phpBB2/index.php?topic=1296.0 Concerning aluminum knives: EVEN TRAINING KNIVES CAN BE VERY DANGEROUS! Therefore, we ask that any knives you use have tips rounded.
Lining up your fights: Most fighters line up at least some of their fights in advance. One good place to do this and to engage in conversation about the Gathering as it approaches is the thread at The 2015 Open Gathering Although due to the nature of Facebook itself posts there are more transitory, DBMA Facebook also is a good place for pre-fight chatter. https://www.facebook.com/groups/51885866231/
Get creative! We encourage you to fight knife versus stick. Stick vs. knife has been one of perennial questions of the FMA, so let's continue the research! Also, please feel free to hide a knife on your person and surprise your opponent with it during the fights. Remember that you may fight with weapons other than a stick if you can find someone willing to go against you. Please consider staff, double stick, and anything else. In order to more deeply explore certain variables, fighters may agree to "no grappling" rules. In staff and other heavy weapon fights the fighters may wear wrestling type ear guards under the fencing masks.
Women Fighters:Women may fight men in the knife fights only.
Also, from time to time I put ideas/themes out there for people to consider. For example, hidden knife or in the last few years I have mentioned "stick & knife". There has been some really excellent growth in this regard and it has served well in lessening people rushing in willy nilly to clinch-ground fighting and thus paying more attention to their stick skills.
Fighter's Code
"Be friends at the end of the day."
Our "Gatherings of the Pack" are not pit fights, the spirit is tribal and of not damaging other members of the tribe. To fight this way, we must depend on the fighters themselves to pull shots that would result in serious or permanent injury. In a similar vein, when going for a lock, avoid reckless efforts. The spirit of a Gathering is to temper each other through the crucible of hard contact and to learn and grow in an environment that fosters brotherhood and growth. The code is one of neutrality in terms of styles and personalities – in other words, no bragging or knocking any participant or style.
You have our respect, as all other fighters should have yours.
ASSUMPTION OF RISK/LIABILITY RELEASE
Stickfighting is dangerous. Injuries will happen. While we are proud of our safety record, due in great part to the respect shown by you the fighters to "the code", there are a few things to which we would like to draw your attention. We suggest that you come with someone who can drive you home in case you don't feel up to it, that your medical insurance be paid up, and that you be in good physical health and condition. This means our goal is that no one should spend the night in the hospital and that everyone should leave with the IQ with which they came.
ON THIS DAY OR ANY OTHER, No suing no one for no reason for nothing no how no way! Also, please note that we are a corporation, so you cannot sue us personally anyway. PROTECT YOURSELF AT ALL TIMES. YOU ALONE ARE RESPONSIBLE FOR YOU. If you cannot do it in this spirit, you should just watch. All copyright (video etc.) belongs to DBIMA, i.e. we can use your fight etc. in our videos and otherwise.
The Magic Words:
The MAGIC WORDS: "No judges, no referees, no trophies. One rule only: Be friends at the end of the day. This means our goal is that no one spends the night in the hospital. Our goal is that everyone leaves with the IQ with which they came. No suing no one for no reason for nothing no how no way!Real Contact Stickfighting is Dangerous and only you are responsible for you, so protect yourself at all times. All copyright belongs to Dog Brothers Inc. CA law applies." © DBI
The Adventure continues!!!
"Higher Consciousness through Harder Contact" ©
Crafty Dog
Guiding Force of the DogBrothers
President/Dog Brothers Inc.
FIGHTER DONATION
All donations must be submitted before registration is processed.