To inquire about becoming a DBMA Student or Instructor contact:
Business Director – Guro Guard Dog | Email | Facebook
---
In DBMA terminology we distinguish "Guro" and "Instructor". In order to be a Guro one must also be a member of the Dog Brother tribe.  In order to be an Instructor one does not have to be part of the tribe.  **This does not mean that every instructor who is part of the tribe is considered a "Guro."
To help ensure our standards, all teaching credentials are revocable and must be maintained.
Punong Guro Marc "Crafty Dog" Denny | Head Instructor – Founder of Dog Brothers Martial Arts |
Email
USA
---
California
Los Angeles | Roan "Poi Dog" Grimm | Guro | 818-331-6440 | Email
Marin County | Antone "Splinter Dog" Haley | Guro | 415-233-1519 | Email
Moreno Valley | Mark "Fu Dog" O'Dell | Guro | Email
N. Hollywood | Nick "Pappy Dog" Papadakis | Guro | 818-762-9538 | Email | Website
Hawaii
Kapolei | Mike "Dogzilla" Tibbitts | Guro | 808-840-3884 | Email
Maryland
Millersville | Mark "Beowulf" Houston | Guro | Email
Pennsylvania
State College | Ryan "Guard Dog" Gruhn | Guro | 814-422-KICK | Email | Website | Facebook
Around The World
---
Canada
Montreal | Philip "Sled Dog" Gelinas | Guro | 514-281-9928 | Email
Scotland
Aberdeen | Colin "Point Dog" Stewart | Guro | Email | Website
Switzerland
Bern | Benjamin "Lonely Dog" Rittiner | Guro | 41-79-341-3484 | Email | Website
USA
---
Illinois
Bloomington | Terry "C-Shadow Dog" Crutcher | Red Dog Tag | 309-310-7626 | Email 
New York
Manhattan | Steve "C-Defender Dog" Sachs | Red Dog Tag | 914-620-7249 | Email
New York City | Bryan "Guide Dog" Stoops | Email | Website
Tennessee
Memphis | Dog Will Dixon | Brown Dog Tag | 901-484-5236 | Email | Website
Virginia
Charlottesville | Michael"War Dog" Barredo | Red Dog Tag | 434-589-3250 | Email
Around The World
---
England
Alex "Cunning Dog" Bondarenko | Brown Dog Tag | Facebook
Scotland
Aberdeenshire | Graeme "Scotty Dog" Higgins | Red Dog Tag | Website
USA
---
California
Hemet | Lester "Surf Dog" Griffin | 951-492-8362 | Email
San Joaquin Valley | Dean "Kaju Dog" Webster | (559) 816-3858 | Email
Woodland Hills | "Dog" Nathan Carlen | (818) 527-KICK | Email
Colorado
Colorado Springs | "Dog" Eric Taimanglo | DBMA Gun/Knife/Empty Hand | 719-304-6764 | Email
Massachussetts
Malden | Joe Dix
 Virginia
Manassas | Brian "Porn Star Dog" Jungwiwattanattaporn
Russ "C-Bad Dog" Iger (Location To Be Updated)
Around The World
---
Argentina
Buenos Aires | Nicolas Wachsmann | 54-11-4741-1864 | Email | Website
Brazil
Porto Alegre | Diego de Carvalho Marroni | 55 51 81898005 | Email
Canada
Vancouver | Loki "Tricky Dog" Jorgenson | 604-837-0240 | Email | Website
France
Villennes | Seine "Dog" Pascal Gilles | Email
Germany
Hannover | Detlef "Sinatra Dog" Thiem | Facebook
Mexico
Dog Mauricio Sanchez | 24551564 / 41677902/04455-3655 7690 | Email | Website
Training Groups / Group Leaders
USA
---
California
Torrance | David Cheng | 562-803-7114 | Email
Connecticut
Russ "C-Bad Dog" Iger | Email
Illinois
Westmont | Pete "Smiling Dog" Juska
Berwyn | Carlos "Maul Dog" Flores
Champaign-Urbana | Greg "Dog Greg Jah" Jahiel | 217-369-4135 | Email
Carbondale | Robert and Karen Gallegly | 618-351-0138 | Email
Maine
Pembroke | Tim Nelson "C-Guardian Dog" | 239-770-6981
Massachusetts
Boston | Greg "Cyborg" Brown | 508-740-2200
Michigan
Ann Arbor | Justin Shaffner | Email | Website | Facebook
Ferndale | "Dog" Ken LaFleur | 248-716-0126 | Email
Missouri
St. Louis | "Dog" Tobias Gibson | 314-520-9521 | Email
North Carolina
Outer Banks | Brian Moberg | Email | Website | Facebook
Ohio
Cleveland | Tiffany Weidendorf | Email
Virginia
Charlottesville | Bryan Anderson | Email | Website | Facebook
Around The World
---
Brazil
Rio de Janeiro | Daniel Villela and Daniel Coutinho | +55 21 993589632 | Email
Scotland
Aberdeenshire | Graeme "Scotty Dog" Higgins | Website
Dog Brothers Martial Arts Training Groups
Around The World
---
Austria
Enns | "Bitch" Bettina Forster | Email
Bulgaria
Sofia | Pavel Velchev | Email
England
Bristol | "Dog" Chris Hawker | Email
Merseyside | Stephen Ormerod | Email
London and South East UK | "Dog" Matt Tucker | 07713 086 557 | Email
Germany
Bremen | "Dog" Olaf Knof | Email
Frankfurt | Nils "C-Angry Dog" | Email
Hamburg | Kai "Suicide Dog" Schilling | Email
Hannover | Daniel "Hidden Dog" Budar | Email
Kiel | Thorsten "Lena Dog" Picker | Email
Leipzig | Sebastian "Mime Dog" Ehlen | Email
Marburg | Kai "WoodsDog" Spintig | Email
München | Stefan "Cro Dog" Kostanjevec | Email
Greece
Athens | Kostas "Spartan Dog" Tountas | Email
France
Paris (Villennes sur Seine) | "Dog" Pascal Gilles | Email
Narbonne | Tristan Carmona | Email
Ireland
Dublin | Nathan Featherstone | Email
Italy
Sardinia, Calgari | Filippo "Vegan Dog" Pani & Arianna " Unidentified Bitch" Accorte | Email
Norway
Leknes, Lofoten | "Dog" Odin | Email
Oslo | Ivan "C-Hammer Dog" Pirozhkov | Email
Poland
Bydgoszcz | Tomek "Tank Dog" Jurkiewicz | Email
Scotland
Aberdeen | Colin "Point Dog" and Lynn "Psycho Bitch" | Email
Glasgow | Gerry "Celtic Dog" Casey | Email
Slovenia
Ljubljana | Andraz "C-DogMa" Bole | Email
Spain
Barcelona | Rodolfo "C-Fraggle Dog" Manzano | Email
Barcelona | Ildefons Exposito Munoz | Email
In this section, we want to acknowledge and share with you the men from whom we have learned. In Dog Brothers Martial Arts, the principal Filipino Martial Arts influences are Guro Dan Inosanto, Grand Tuhon Leo Gaje, and Punong Guro Edgar Sulite. Of course, there are others as well, and they are listed in no particular order. Some we have trained with more, others perhaps only a little; but we thank them all. This page is not complete, more will be posted as time goes by.
Punong Guro Crafty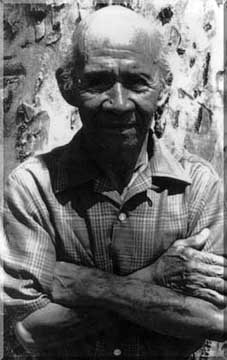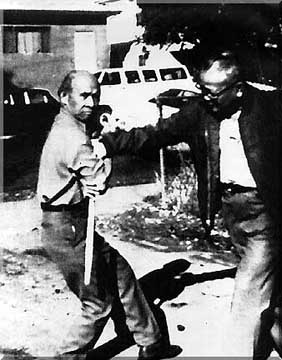 Manong LaCoste training with Sebastian Inosanto, the father of Guro Dan Inosanto
My teacher's principal teacher in the Filipino Martial Arts, Manong LaCoste is the model of all that to which we aspire in Dog Brothers Martial Arts. Still unusually vigorous at the age of 89, he was murdered by Ignacio Ovilla, who died in March 1999 at the age of 99. This was the article that appeared in the newspaper the next day:
OLD MEN ARGUE NO MORE by Stanley Klevan
The two elderly men had argued before in the past two or three years. But this morning Ignacio Ovilla, 78, told police he had enough and so he fired his ancient .38 revolver five times at Johhny LaCoste as they stood on the back porch of the Filipino legionaires residence hall at 203 E. Hazelton.
Then Ovilla went upstairs to await the arrival of officers. When Sgt. Ralph Davis appeared, Ovilla calmly handed over his gun and announced what he had done.
It was shortly after 9 a.m. today and the whole incident at the residence hall of the Legionarios Del Trabajo in America Inc., had taken less than 15 minutes, from the shooting to the moment officers led Ovilla in police headquarters to try to piece together what had occurred.
Ovilla told police that LaCoste did not reside at the hall, but some place else in Stockton. Still, on some occasions when LaCoste would visit the hall, the two men argued. Ovilla told officers that LaCoste was in his 80s, but he was afraid of him because he was an ex-prizefighter "and still a good puncher." That's why he went to his room, got the gun, and came back to the porch for a confrontation with LaCoste, Ovilla indicated to officers.
It was that simple."
Guro Inosanto has said that Manong LaCoste was shot in the back through a screen door.
In this picture Dan Inosanto is in his mid 50s. So much has been said, I don't know where to begin or what to say. He is my teacher.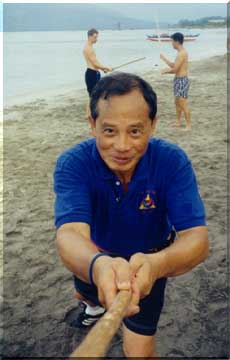 GT Gaje is Top Dog and Sled Dog's teacher in Pekiti Tirsia, and in the summer of 1998 I had the honor of training with him at his home in Negros Occidental and becoming his student as well. He moves with tremendous grace and is a gifted teacher who can truly bring out real fighting skills. GT Gaje is always researching and growing for his beloved Pekiti Tirsia.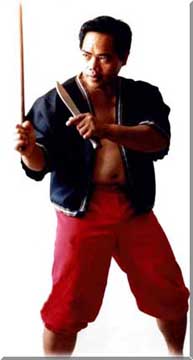 I met PG Edgar at GT Gaje's 1989 Pekiti Tirsia training camp in Tennessee and at Guro Inosanto's suggestion began training with him. It was a humbling experience. My hands, even through his innovative hand protectors, were left swollen for weeks after our first sparring session. Although I am an instructor in his system of Lameco, there is much of the system I don't know. His emphasis with me was more on improving me as a fighter. In addition to helping my technical skill, he also helped my thinking. Salty Dog trained with him too, and I think he enjoyed teaching two fighters who fought each other.
Of course it is always a loss to family, friends and students when one dies so young, but in his case it was more than that. He had studied extensively with many, many grandmasters in the Philippines and for his age, was unusually deep in the old truths and in a position to bring them across the Pacific Ocean to us. His death is a tremendous loss to the Filipino Martial Arts.
DBIMA hosts the website of Lameco Eskrima International, where you can purchase PG Edgar's books, including "Masters of Kali, Arnis, & Eskrima" (Highly Recommended!) and his innovtative safety training gear. All proceeds go to his widow, Felisa Sulite and their children.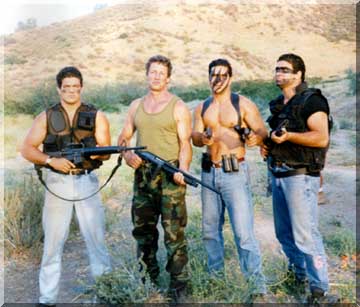 Machado Brothers Brazilian Jiu Jitsu has had a tremendous influence on the Dog Brothers and Dog Brothers Martial Arts. Here Crafty Dog poses with Jean Jacques, John, and Rigan Machado on the set of "Bad Boys from Brazil" (not in foto are brothers Carlos and Roger). Crafty played a militia-mercenary type, who was part of a team to take the brothers farm away from them. He got killed by Rigan in a kukhri versus baseball bat fight, and playing a different bad guy got killed by Jean Jacques when he pulled two knives on JJ when he mistakenly thought JJ was unarmed. The brothers father in the movie was played by Guro Dan Inosanto.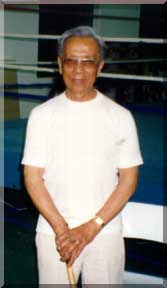 GM Giron, now in his late 80s, used his FMA skills in WW2 as part of the "eyes & ears" for General MacArthur's return to the Philippines. His book "Memories Ride the Ebb of Tide" is required reading for any serious student of the FMA. We haven't trained with him very much, but each and every occasion is treasured. His presence inspires.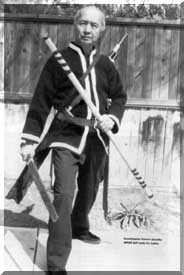 Manong Ramiro Estalilla is the heir and GM of the distinctive and interesting Kabaroan system. Although my training with GM Estalilla is quite minimal, I wish to credit him with stimulating my thinking on the subject of range. His influence is particularly felt in the DBMA concept of snake range and stick squared range.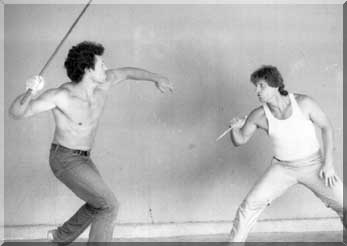 I trained with Paul Vunak from approximately 1983-86.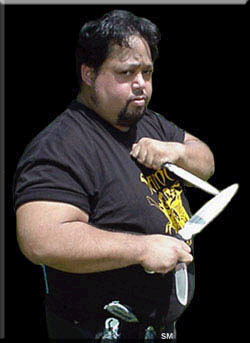 I have received training of lasting value from Tuhon Chris Sayoc. Sayoc Kali is an "all blade, all the time" five generation family system. Not only was Tuhon Chris a deadly man in his own right, but he produced them as well.