Woof!
We are excited to announce the all new Dog Brothers Martial Arts Association, which builds upon the Association that began twelve years ago. Thanks to the evolutions in DBMA as a system and in technology, the new DBMAA will offer all that it always has and much more.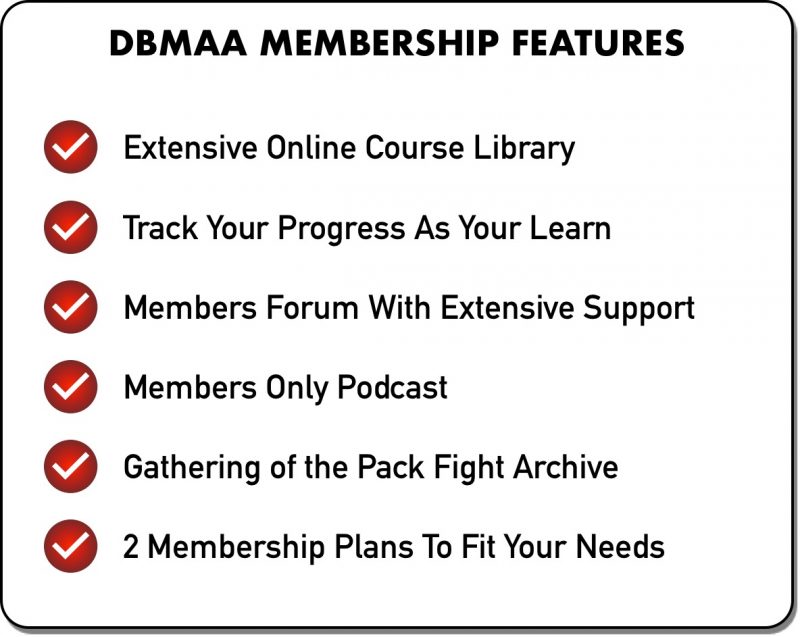 BENEFITS:
DBMA Association Online Video Library: Inside the DBMA Association you will find numerous Dog Brothers DVDs which have been broken down by technique and carefully labeled for easy navigation (see the bottom of this page). Every month there will be new DBMA Association-only clips from various seminars, private lessons and other various Dog Brothers Martial Arts related events that will be posted every month. Some will be from Guro Crafty, some will be from DBMA Guros and Instructors, and some will be from guest instructors. It might be Guro Crafty sharing the latest wrinkle on the Time Machine Game or one of the Guros sharing an interesting tangent on which he has some distinct expertise. It might be a guest instructor; for example, you will see Guro Crafty's friend and noted twelve year UFC veteran Tony Fryklyn demonstrating his explorations based upon Guro Crafty's trailblazing innovations with the use of shot puts as a training tool. Tony, assisted by his friend "Jase" (Jason Stratham's stunt double) will show you his expression of using the shot puts to develop his MMA clinch game.
Course Tracking: You will be able to mark each lesson as completed as you work your way through your courses. This will make tracking your progress a breeze!
Footage from Guro Crafty's extensive library! Guro Crafty has compiled over twenty five years of fighting and training footage which he will share with the DBMA Association. Where permission is obtained, the shared footage will include some of the finest teachers and fighters on the planet.
DBMA Association Forum: The DBMA Association forum is like none you have ever seen. It puts a wealth of knowledge at your fingertips. As a member you will have to the largest repository of knowledge ever compiled on DBMA. Having already been in existence for twelve years, the older lower tech Association is already a living, breathing entity ready, willing, and able to support this new step. Every new user will have twelve years of content already there waiting for him—plus plenty of material of the sort enabled by the new technology. In addition to the subject matter of the sort you might expect, there are threads on Evolutionary Psychology/Biology, Konrad Lorenz, Carl Jung, Historical Battles, etc. We provide a list of subject headings to help you find what you are looking for easily and in context. After all, DBMA is not just about the fighting, but the contexts in which it occurs.
Navigating on the forum is surprisingly easy. Great emphasis has been put on "thread coherency"—meaning that if you want to research a particular subject (e.g. anti-knife, head butts, improvised weapons, security measures, guns, etc.) you will be able to go to that thread and find years of accumulated contributions on the subject in question thus making navigating twelve years of posts easier than ever.
Unlike other forums where the "name instructor" rarely shows up and interacts even less, Guro Crafty is there most days to engage and to interact with you.
Guro Crafty has always made it clear that DBMA is not "the Marc Denny style" – rather it is "A system of many styles dedicated to smuggling concepts across the frontiers of style." The membership of the Association is broad and deep and brings much to the conversation. As a member of our organization you will be part of a community, creating an environment of support and growth.
DBMA Association Podcast: We are working on some exciting video podcasts exclusive to our premium members! You will be able to stay current with the discussions and the sharing of ideas with all things related to DBMA Association!
Join Today! This is an incredible value. You have access to hundreds of videos and many like minded and experienced individuals with this package. Take our entire library with you wherever you have internet access! Our videos play well on desktop computers, laptops, tablets, and mobile devices.
The tuition is $30 per month or $300 per year (two months free).
Enjoy and let the learning begin!