Dog Brothers East Coast Training Camp
June 9 – 11, 2017
State College, PA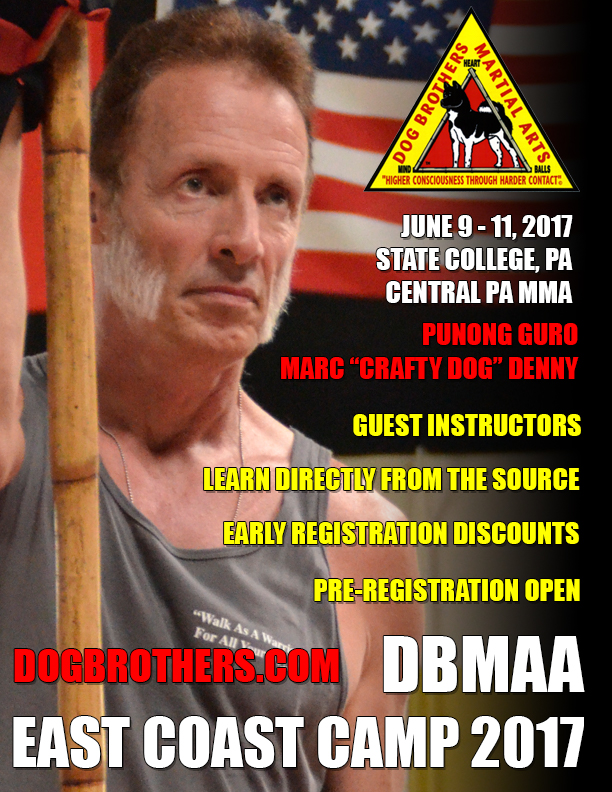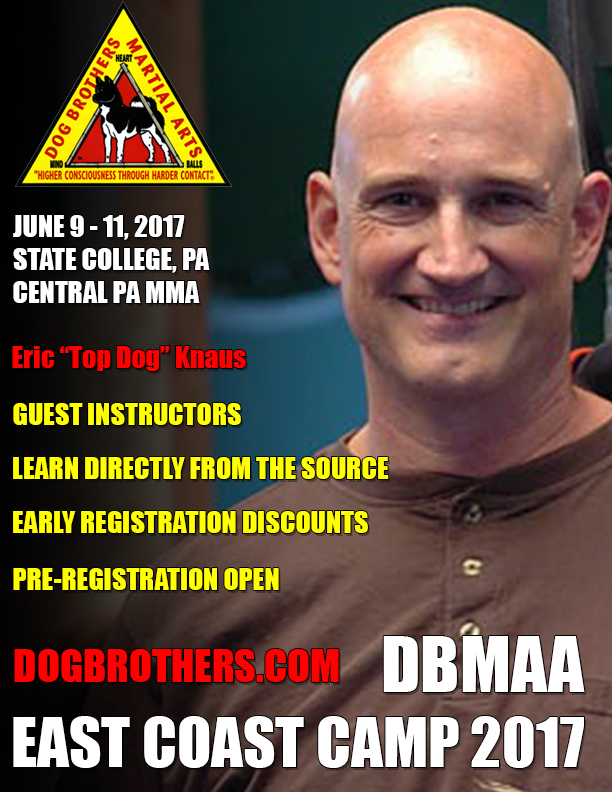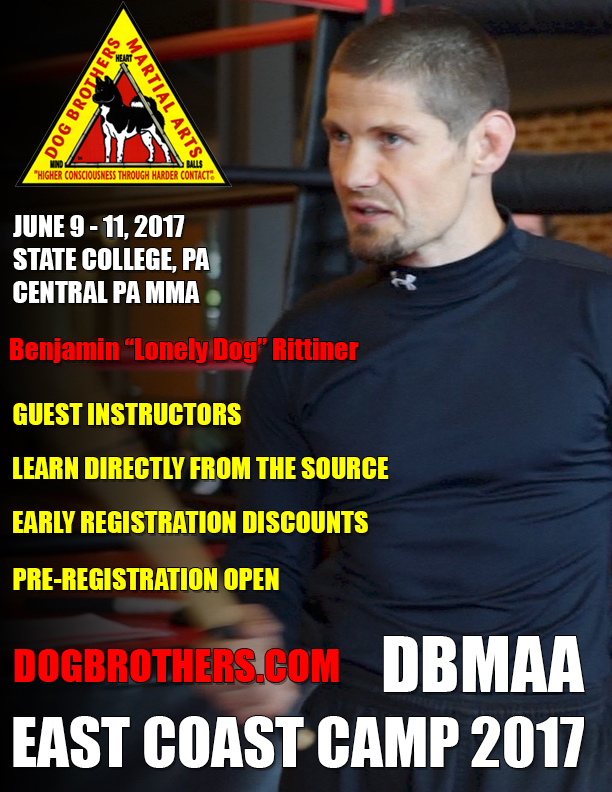 ****MUST ATTEND EVENT****
DOG BROTHERS EAST COAST TRAINING CAMP June 9th-11th
I can not say enough on how profound of an impact the Dog Brothers and Dog Brothers Martial Arts has had on my life over the past 20 years.
It has taught me how to "Walk as a Warrior for all of my days"!!!
The teaching line up at this years training camp is phenomenal. In short, it's the equivalent of a MLB All-Star Game roster.
This is a rare opportunity to receive personal coaching, feedback and training with men who have trained several arts and repeatedly battle tested the material, at countless Dog Brother Gatherings of the Pack. As such, you will be taught material which pushes the "martial arts and crafts" techniques to the side and focuses on tried and trued techniques and strategies on how to fight with weapons, in all ranges, how to realistically defend yourself from a knife attack and how to translate the motions of weapon based strikes into empty skills.
If you never trained with weapons, no problem, come down and learn. If you have trained with weapons, be open minded like Bruce Lee, come join us and train. If you train Muay Thai, come down and experience Krabi Krabong, the ancient military art where Muay Thai was derived from. If you train wrestling or BJJ, come down and learn how it integrates into a weapons fight. If you train standup striking arts, come down and learn some unique and effective strategies to supplement your game and mess with your opponents head.
If you want to learn how to avoid and survive a criminal attack, come down and train.
I deeply regret not being able to attend last years camp. I had an amazing time two years ago. The Top Notch Guros were amazing as always. However, the addition of Legends such as Top Dog, Lonely Dog and the growing number of Guros and other Tribe members will make this year's camp even better.
You never know who you will meet. The New York Group I trained with when I first started no longer exists. I was very fortunate to meet someone, at the camp, who lives close by. This led to the re-birth of the New York group which has been a dream of mine for many years and would not have happened if I did not attend this camp.
I looking forward to training with all of you!!!
The Adventure Continues
Steve Sachs
The cost of a civilian weekend seminar in the United States is $2000 per weekend, plus airfare, hotel. Email or give a call 310-543-7521 (24 Hour Number) for further details or to ask about military and law enforcement programs.