---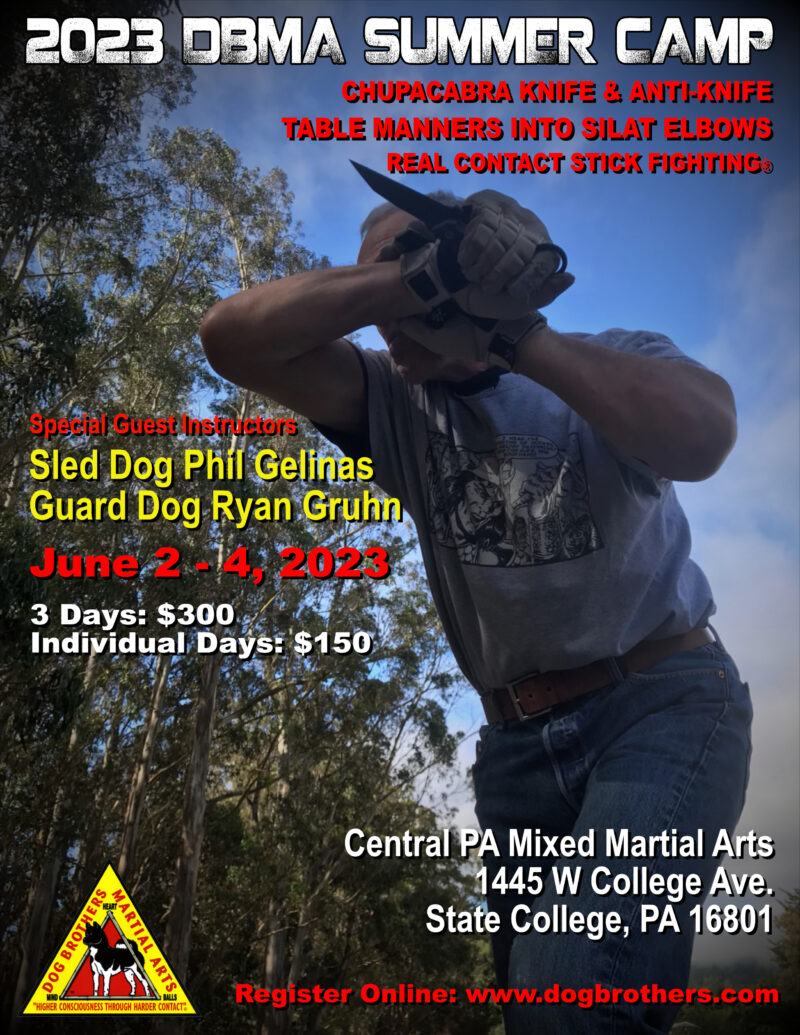 Friday – Sunday – June 2 – 4, 2023
Woof All:
This year's Camp will once again be at Guro Guard Dog Ryan Gruhn's school in State College, PA. If you have not made the trip before, know that it is easy and that we will help you with the details. Basically you can drive, or fly into Pittsburgh or Philadelphia and drive from there (2 hours?) or fly into State College. State College is a small airport and in the post Covid area we are not sure of how many flights there will be.
There are numerous hotels to pick from and VRBOs in State College. Simply search hotels near CPAMMA and you will find many options. CPAMMA is also offering their mats to sleep on should you want to go that route (the bathrooms have pleasant showers).
If you can arrange to arrive Thursday June 1, know that your can jump into Guro Guard Dog's Thursday night classes at no additional charge. The Camp is three full days, but know that if you cannot make the early sessions on Friday you will be charged pro-rata.
This year will feature:
Sled Dog Phil Gelinas
I am delighted to have my good friend and fellow Original Dog Brother "Sled Dog" as one of the instructors at the Camp.
If you have seen our first series, you have seen him fight many times– Salty Dog and he were the toe-to-toe fight on Day Two at the Rumble at Ramblas that took us through the portal from sparring to fighting. One of his trademark combos is the Roof Block to Belly Thrust. He has unusually good eyes for recognizing opportunity and the fighting intelligence for this is something to value in a teacher.
As many of you know, the connections between Pekiti Tirsia Kali (PTK) and Dog Brothers/Dog Brothers Martial Arts are strong. Not only was Top Dog's primary system PTK, but PTK is one of the five primary systems of influence on my home system of Inosanto Blend, and one of the three primary FMA sytems of influence on DBMA. I have trained with Grand Tuhon Gaje at various camps and at his home in Bacolod and am a member of the PTK family.
Sled has been training in PTK since 1981 and was promoted to "Tuhon" in 1988. I'm am unversed in these things and I gather that there have been subsequent promotions about which Sled humbly jokes "Wonton, Tuhon, Three-hon". If I am not mistaken he is second ranked only to GT Gaje in PTK.
In short in him you will find a teacher of uncommon depth in PTK (other systems such as Kajukenpo too) and fighting experience. Indeed, thirty five years after our Rumble at Ramblas he continues to fight! There are likely to be moments of mini-satori from conversation at the Camp even when he is not teaching.
He will be teaching PTK's "Juego Todo/Juego Tirada" which is the rarely taught deeper understanding of PTK's Tri-V material.
Sled Dog/Tuhon Phil describes it thus:
"Juego Todo/Juego Tirada is a term use in many FMA to describe their sparring practices."
"Specifically (in PTK) it is used as a platform to blend the advanced principles and techniques with combat specific situations."
"It is meant to be the finishing school in PTK."
Guard Dog Ryan Gruhn
Among his many accomplishments, Guard Dog Ryan Gruhn is one of a select handful who have become a Guro in DBMA. His fighting experience as a Dog Brother blends with his successful competitive career as a Brazilian Jiu-Jitsu Black Belt and his experience coaching many high-level MMA and Muay Thai fighters to victory, earning more than 20 championship titles under his guidance. Come experience the synergy of his blend!

For those who arrive on Thursday Guro Guard Dog will focus on top control in the Gi Jiu-Jitsu class, emphasizing its critical importance. In a different session he will delve into the complex art of footwork, which he has studied and practiced extensively (including DBMA's Kali Tudo) in both Dog Brothers Stick Fighting and as a professional coach in MMA and Muay Thai. With a wealth of techniques used in Dog Brothers Gatherings, Mixed Martial Arts, and Muay Thai, Guro Guard Dog is ready to share so that you can Walk as a Warrior for All Your Days!
Crafty Dog Marc Denny
I've been a busy man here in NC and look forward to sharing the results. According to the interests of those in attendance, I will be teaching some mix of:
Chupacabra: I have been teaching it to the people here in North Carolina 😉 quite a bit and the system has evolved since I last taught it at a DBMA Camp. This is not "knife dueling"! It is lean and mean, designed to prepare you for worst case Die Less Often real world problems using your EDC knife.
Table Manners into Silat Elbows: Sean O'Dowd taught Table Manners at the North Carolina iteration of our Summer Camp a couple of years ago, and with his permission I integrate my expression of the material into DBMA.
The focus this year will be on an aggressive invasion of our reactionary gap while we are seated by someone who is standing.
A key insight here is that the Krav Maga "helmet" that Sean teaches is also an expression of DBMA "Attacking Blocks". It is highly disruptive to the aggressor, and leaves us in ideal position for continuation into what I like to call "Silat Elbows".
I know some of us have Silat skills– and wonder why we have a hard time finding where to bring them to bear. Well, the dynamic of the "flying spiked helmet" gets us to where we have a real world real time answer. (If you do not have Silat skills, not to worry. The distinctive elbowing structure we will be using is readily imparted.) With the Flying Spiked Helmet we reverse the seeming advantage of the problem looming over us and seamlessly flow into the Silat elbow combos.
As we say in DBMA:
"What do we do when we have advantage? We take advantage! He is the turd and we are the smell. Wherever he goes, there we are! By so doing we step through the portal to the magical dimension where martial arts and crafts actually work!"
"Dog Brothers Real Contact Stick Fighting": I will be going into how to scientifically bring merging into your fighting game.
A DBMA Camp is not only about the content taught, but about your interactions with those around you. Despite my late start on promoting the Camp, I am delighted to report we already have numerous sign ups, including Guro Cunning Dog Alex Bondarenko and Guro Splinter Dog Antone Haley.
Walking as Warriors for All Our Days!
Punong Guro Crafty Dog/Marc
Location:
Central PA Mixed Martial Arts
1445 W College Ave
State College, PA 16801
Times:
Thursday Bonus Session: Gi Jiu-Jitsu (Top Control): 6:30pm
Friday, Saturday, Sunday

Session 1: 10:00-12:00
Session 2: 13:00-15;00
Session 3: 16:00-18:00
Price:
3 Days: $300
Single Days: $150
Hotels:
All of the hotels in State College are 5 minutes or less from CPAMMA: Search For Hotels Here
Directions: Click Here
Flights: Click Here
Rental Cars: Click Here
Pittsburgh Airport to Sate College: Directions
Contact:
Marc Denny | 310-738-1044 | Email
Payment Links:
---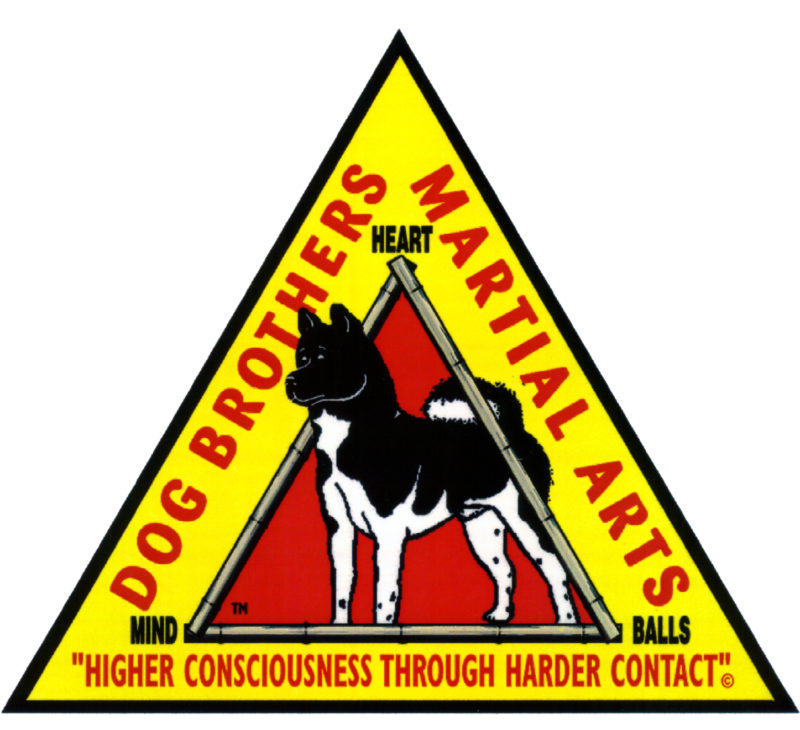 ---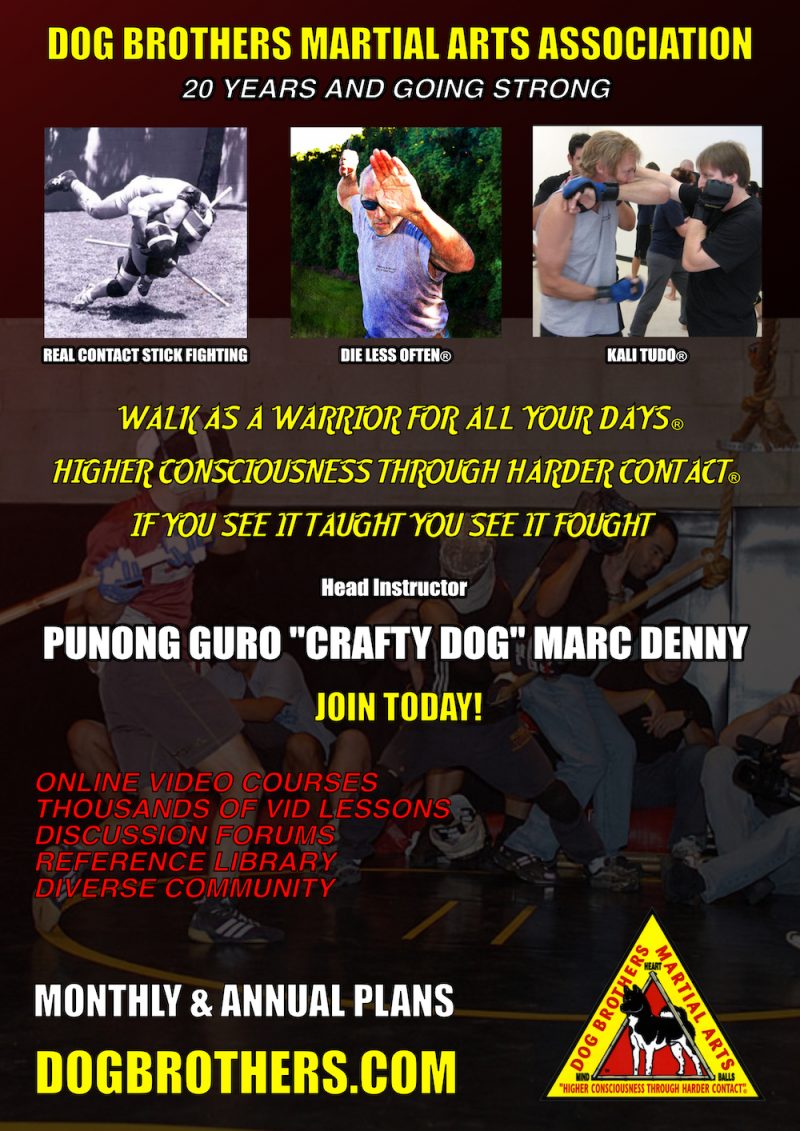 Latest Updates
View Course Greetings DBMA Association Members! Course Update: 2022 West Coast Camp Module 2 Day…
---
Join The Dog Brothers Martial Arts Association Today!
We hope you are enjoying the free content and we love sharing with you! If you want to go deeper, please consider our monthly or annual membership plans. You're gonna love it!