Memorial Day 2017
Brave Little Boy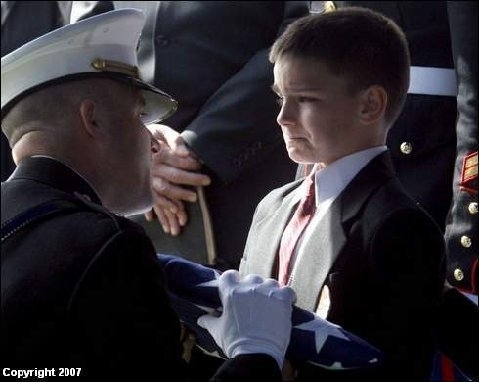 Another Casualty of War
Loyal Friend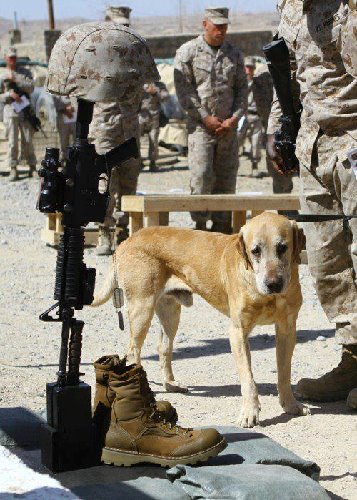 Native American Wake
Memorial Day of 1982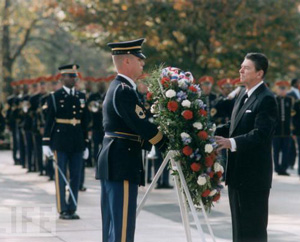 President Ronald Reagan offered these words in honor of Patriots interred at Arlington National Cemetery:
"I have no illusions about what little I can add now to the silent testimony of those who gave their lives willingly for their country. Words are even more feeble on this Memorial Day, for the sight before us is that of a strong and good nation that stands in silence and remembers those who were loved and who, in return, loved their countrymen enough to die for them. Yet, we must try to honor them not for their sakes alone, but for our own. And if words cannot repay the debt we owe these men, surely with our actions we must strive to keep faith with them and with the vision that led them to battle and to final sacrifice."
, , , "Our first obligation to them and ourselves is plain enough: The United States and the freedom for which it stands, the freedom for which they died, must endure and prosper. Their lives remind us that freedom is not bought cheaply. It has a cost; it imposes a burden. And just as they whom we commemorate were willing to sacrifice, so too must we — in a less final, less heroic way — be willing to give of ourselves. It is this, beyond the controversy and the congressional debate, beyond the blizzard of budget numbers and the complexity of modern weapons systems, that motivates us in our search for security and peace. … The willingness of some to give their lives so that others might live never fails to evoke in us a sense of wonder and mystery. One gets that feeling here on this hallowed ground, and I have known that same poignant feeling as I looked out across the rows of white crosses and Stars of David in Europe, in the Philippines, and the military cemeteries here in our own land. Each one marks the resting place of an American hero and, in my lifetime, the heroes of World War I, the Doughboys, the GI's of World War II or Korea or Vietnam. They span several generations of young Americans, all different and yet all alike, like the markers above their resting places, all alike in a truly meaningful way."
, , , "As we honor their memory today, let us pledge that their lives, their sacrifices, their valor shall be justified and remembered for as long as God gives life to this nation. … I can't claim to know the words of all the national anthems in the world, but I don't know of any other that ends with a question and a challenge as ours does: 'O! say does that star-spangled banner yet wave, O'er the land of the free and the home of the brave?' That is what we must all ask."
---
Dog Brothers East Coast Training Camp
June 9 – 11, 2017
State College, PA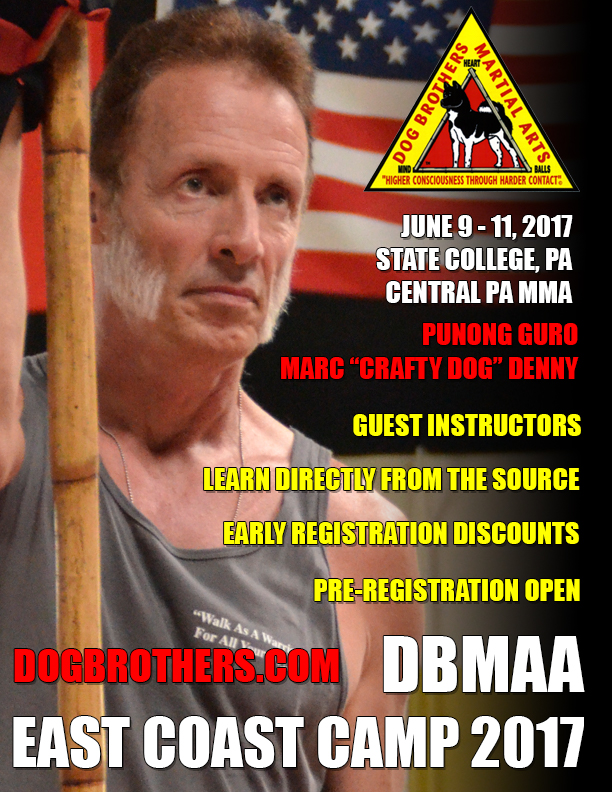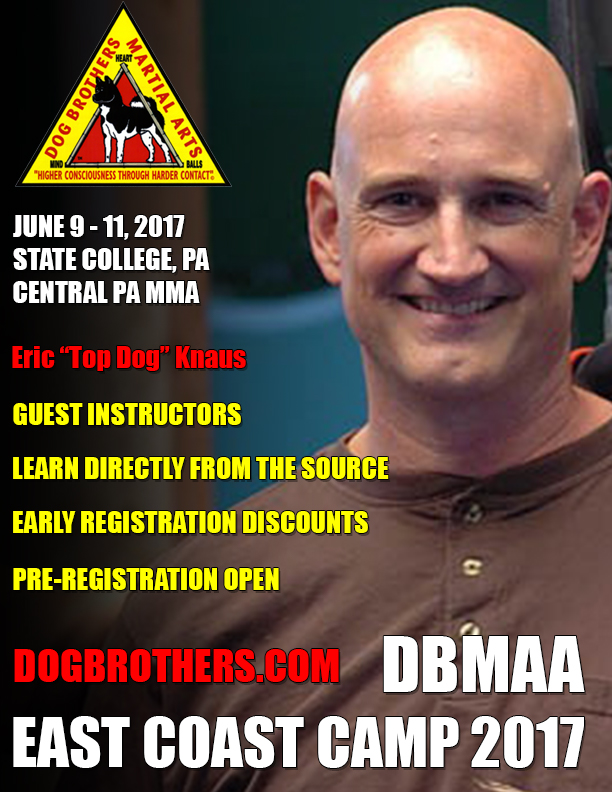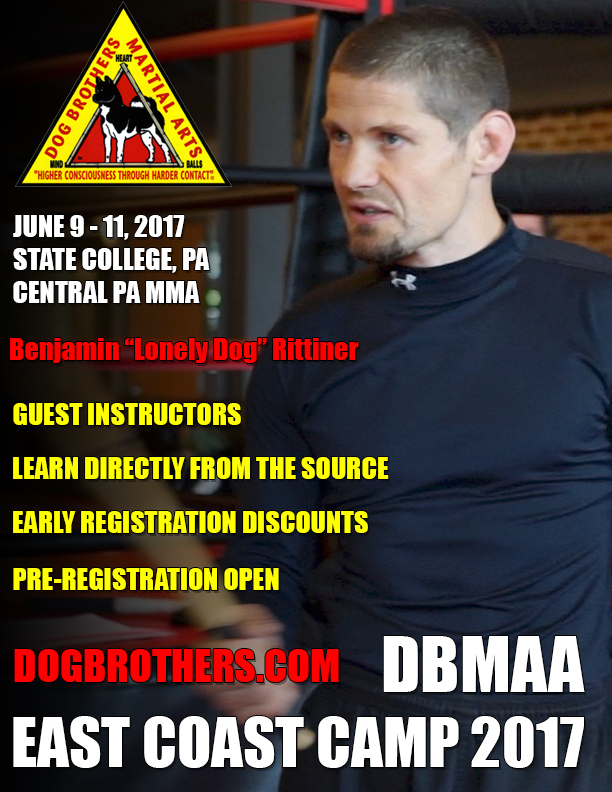 ****MUST ATTEND EVENT****
DOG BROTHERS EAST COAST TRAINING CAMP June 9th-11th
I can not say enough on how profound of an impact the Dog Brothers and Dog Brothers Martial Arts has had on my life over the past 20 years.
It has taught me how to "Walk as a Warrior for all of my days"!!!
The teaching line up at this years training camp is phenomenal. In short, it's the equivalent of a MLB All-Star Game roster.
This is a rare opportunity to receive personal coaching, feedback and training with men who have trained several arts and repeatedly battle tested the material, at countless Dog Brother Gatherings of the Pack. As such, you will be taught material which pushes the "martial arts and crafts" techniques to the side and focuses on tried and trued techniques and strategies on how to fight with weapons, in all ranges, how to realistically defend yourself from a knife attack and how to translate the motions of weapon based strikes into empty skills.
If you never trained with weapons, no problem, come down and learn. If you have trained with weapons, be open minded like Bruce Lee, come join us and train. If you train Muay Thai, come down and experience Krabi Krabong, the ancient military art where Muay Thai was derived from. If you train wrestling or BJJ, come down and learn how it integrates into a weapons fight. If you train standup striking arts, come down and learn some unique and effective strategies to supplement your game and mess with your opponents head.
If you want to learn how to avoid and survive a criminal attack, come down and train.
I deeply regret not being able to attend last years camp. I had an amazing time two years ago. The Top Notch Guros were amazing as always. However, the addition of Legends such as Top Dog, Lonely Dog and the growing number of Guros and other Tribe members will make this year's camp even better.
You never know who you will meet. The New York Group I trained with when I first started no longer exists. I was very fortunate to meet someone, at the camp, who lives close by. This led to the re-birth of the New York group which has been a dream of mine for many years and would not have happened if I did not attend this camp.
I looking forward to training with all of you!!!
The Adventure Continues
Steve Sachs
DOG BROTHERS MARTIAL ARTS ASSOCIATION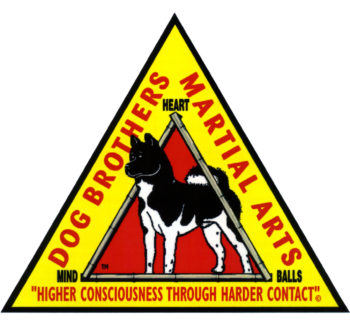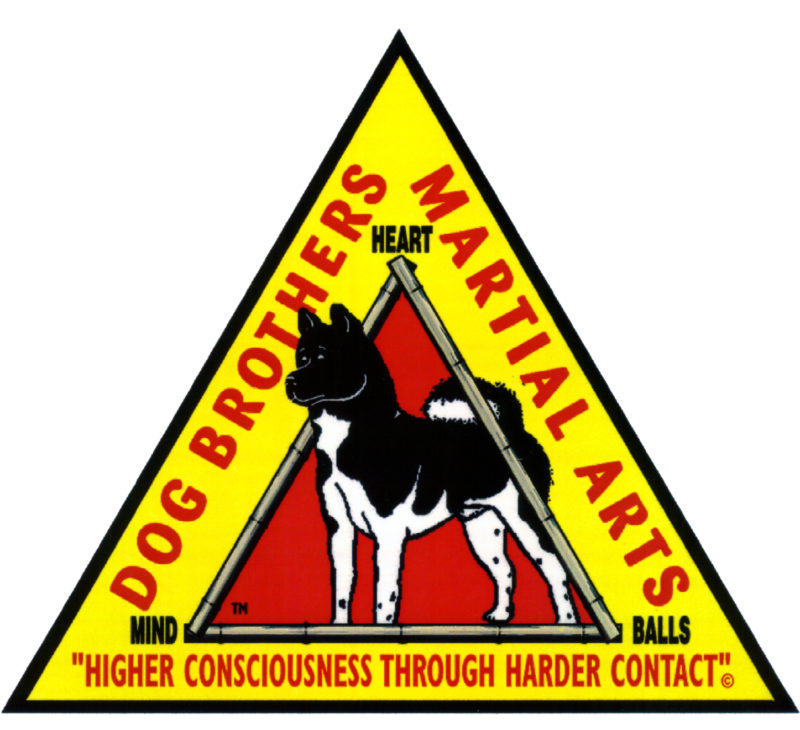 Latest Posts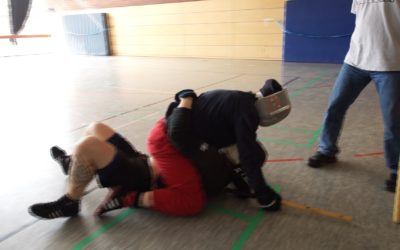 4 New Vid Lessons posted from Benjamin "Lonely Dog" Rittiner from the 2016 East Coast Camp! 5 New Fights posted from the 2016 Euro Gathering of the Pack!
DBMA Association Memberships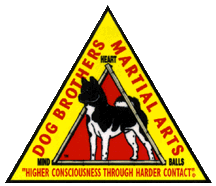 24 – 7 Access | Regular Updates | Extensive Library | Track Your Progress
Where Do I Begin?
Greetings — or as we often say around here — Woof!
A question we often get is the simple yet profound "I like what I see and want to get involved.  Where do I begin?"  This question is asked by beginners, and by those with experience in other systems.
Join the DBMA Association. Our online training library is an immense resource that you will use frequently. Everything is organized for you in one place and very easy to locate.
Certainly you may decide to pick and choose lessons according to your interests.  We have put considerable effort into our videos both being accessible to the less experienced and having substance for the more experienced.  Although we also have also designed most of our courses to be able to "stand alone" so that the experienced can pick and choose those courses which address subjects of particular interest to them, our intention is that there be a cumulative "the sum is greater than the parts" quality when all the lessons are studied and trained.
Our website has a considerable amount of information as does our Martial Arts forum.
If you wish to "begin at the beginning", the questions remains as to exactly "Where to begin?"  Avoiding fortune cookie witticisms such as "At the beginning, Grasshopper" or "The longest journey begins with the first step", for most people we suggest the following progression to establish a good foundation upon which to base one's subsequent development:
The six DVD series "Real Contact Stickfighting" featuring Eric "Top Dog" Knaus and the Dog Brothers.  Although we released this series in the fall of 1993, that it continues to be a solid seller 15 years later is a remarkable thing and is a great testament to the extraordinary performance of Top Dog.Extraordinarily graceful for a true heavyweight (6'4″ and 220 pounds) and the "Fighting Force" around whom the Dog Brothers first coalesced, this series is focused on solo training.  TD shows a movement, the viewer trains a round with him, then there is a fight– as we saw in Dog Brothers Martial Arts "If you see it taught, you see it fought".  To be able to install stick skills modeled on the dominant fighter of his time is a great way to begin.
"Krabi Krabong" by Ajarn Arlan "Salty Dog" Sanford" :  Krabi Krabong is the Thai military weaponry system from which the ring sport of Muay Thai descends. Dog Brothers co-founder Salty Dog traveled to Thailand many times to train and become certified by the legendary Buddaiswan Institute as an "ajarn" (teacher/guro) in KK and used it to change the face of Dog Brothers fighting.This is where your two man training begins.  Although anyone with a background in Muay Thai will find this material particularly accessible, the material is primal and power crazed– always a good thing to have for true fighting skills!– and readily learned by all.   This is where you learn to step through with power and establish the foundations of what we call "bilateralism"– the ability to fight with either side forward, which will be very important down the road as you develop your skills for operating in "360 degree" situations that might arise in the real world.  The drills are actually rather simple, which means that in short order can be trained with power, speed and aerobic intensity.  As always– "If you see it taught, you see it fought"– plenty of good fights showing what you are learning in action.
" Combining Stick & Footwork" by Guro Marc "Crafty Dog" Denny.  Real fights move! One of the most important fighting attributes in real fighting is to be able to hit and block while moving.  Building on the what you trained with Ajarn Salty in the KK DVD, Guro Crafty introduces the triangular footwork of Kali and the basic stick combinations from the Lameco system integrated with footwork and shows how to attack and defend knee attacks. Two man drills done in rhythm allow you to develop your coordination and honestly assess the efficiency of what you are learning.
With these in place, you will be ready to begin exploring the other DVDs.
Check our Instructor Page to find a qualified Dog Brothers Martial Arts Instructor and Training Group near you!
If you want to really deepen and accelerate your growth, a Personal Training Program is the way to go. A PTP allows me to really focus on the particular individual(s) in front of me, whether beginner or advanced.
I enjoy what I do and with someone earlier in his/her path, my goal is to unlock his particular combination of learning modalities (visual, verbal, kinetic, etc) and install the building blocks that will best serve him to not only become someone to be reckoned with in short order but also serve as a sound foundation for growth over time. After all, the mission is to walk as a warrior for all our days!
Learn more about our seminar program! Have Punong Guro Crafty visit your school and receive personal instruction and supervision to accelerate the learning process!
The Adventure continues,
Punong Guro Marc "Crafty Dog" Denny
UFC Letter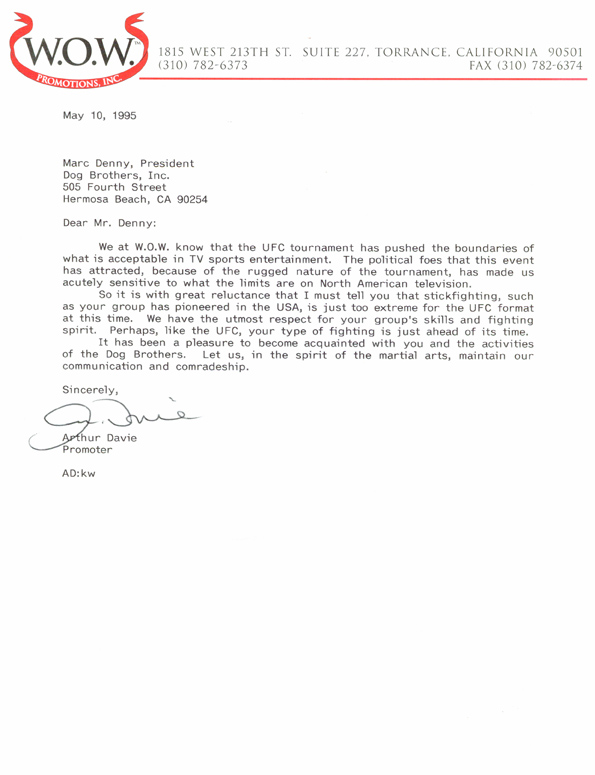 Online Store

Visit our ONLINE STORE for Dog Brothers stickfighting gear.