DBMA Association Memberships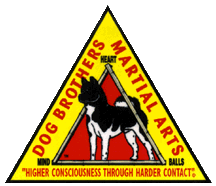 24-7 Access
Regular Updates
Extensive Online Training Library
Track Your Progress
---
LATEST DOWNLOADABLE RELEASES!
DLO 5: The Crafty Shooting Stance featuring Frankie McRae and PG Crafty Dog Marc Denny
Running Time: 2 Hours
Topics covered in this course:
The Crafty Dog Shooting Stance
Balance, Stability, Maneuverability
Rise & Muzzle Flip
The Axis Effect
Grip Fundamentals
Shooting Fundamentals
The Draw
Initial Threat
The Dracula
The Crafty Draw Stroke
Feedback On The Stance
Retention & Close Quarter Issues
High Ready, Moving Through A Crowd
Features:
720p HD
Chapter Markers for easy navigation
Fully tagged for easy filing in iTunes or your favorite video playlist system
====================
Marc:
I wanted to let you know that since we have started working together I have learned a tremendous amount. More so with the adaptation of your fighting stance and the flexibility it offers for my Gunfighter series. I have found that it allows for a more mobile base to a more reflexive stance that keeps the shooter from becoming too lazy and moving into a Weaver stance. Indeed, I think it no less an innovation than the Weaver stance and no less deserving of its own name and hereby propose "the Crafty Dog Stance".
Why?
You know how I feel about a restrictive position. The Crafty Dog gives a more powerful position to the shooter to start from and makes movement easier. It is better for recoil management in a rapid shooting engagement and allows smaller shooters and women to shoot bigger handguns without all the shoulder involvement. It allows for better follow thru and for sure makes recovery easier for faster shooting and quicker target engagement for follow on shots. I just taught a three day Gunfighter course and some of the students had attended a previous course. They loved the new addition and thought it was better adapted to shooting as well. One student said it was more comfortable for him to use the Crafty Dog than a regular Isosceles because it put less stress on his lower back with all the kit on. Anything that helps our backs with 60lbs of body armor and kit has got to be better than the normal. I wanted to thank you again for the mentoring and the new techniques you have taught me. I hope one day to be able to reciprocate as much.
Signed,
Frankie Mcrae
---
"Statistically, you are far more likely at some point in your life to be dealing with the aftermath of a traumatic injury, be it bullet, blade, chainsaw, automobile, lawnmower, etc, than you are to be pulling out your gun or knife in self defense, and the person injured is likely to be you or a loved one.
"I just finished reviewing the new "Trauma Care" offering as the latest installment of the "DieLess Often" series. As a former military doctor, I have completed the Combat Casualty Care Course (C4) and have spent plenty of hours moonlighting in the ER, but if you don't use skills regularly you lose them. In that spirit a couple years ago I attended this seminar taught by Frankie McRae, and found it extremely practical and useful.
"The new algorithms being taught to the combat medics now as a result of all our recent casualty experience frankly make a lot more sense than what I was taught years ago. I would add that the content is logical and easily understood by non-medical people. The emphasis on material that is most likely to be useful (improvised if necessary) was quite good.
"For those willing to go the extra mile and have a kit with them (e.g. in the glove box of their car, and/or at home) the section on what to have with you or readily accessible is very good. Even as a M.D. It made me rethink my personal preparedness. I now almost always have a kit with an additional self applicable tourniquet and nasal airway, small flashlight and blade in a small bag with me. I made that decision and commitment after attending this seminar."
"Dr. Rick "Doctor Dog" Laue, M.D"
Many of us work on skills with guns, knives, and other weapons and tools that make holes in people, yet few of us work on the skills of keeping people with those holes alive until higher medical authority arrives. Now with this approximately three hour Download, you have "Trauma Care with Frankie McRae".
Well, who is Frankie McRae?
Frankie is an 18 Delta (Special Forces Combat Medic). He is the former head of the US Army Special Forces Advanced Reconnaissance Target Analysis and Exploitation Techniques Course (SFARTAETC) at Ft. Bragg N.C. He started his military career in the 1st Ranger Bn as an 11B infantryman. He served in the 1st Special Forces Group (ABN) Okinawa Japan, in Cco 1st Bn. 1st SFG(A) (C-1-1) where he was an assault team leader for F team,Troop 1 in the Combatant Commanders In-extremis Force (CIF) conducting operations in Operation Enduring Freedom. Advising, training and standing up the Light Reaction Company of the Armed Forces of the Phillipines (AFP). He was then assigned as an Instructor to the SFARTAETC at the Special Warfare Center and School in Ft. Bragg NC, was promoted and became the NCOIC of the course and awarded for having the highest graduation rate for the course in it's twenty year history . He also served as a Troop SGM Troop 1 and Team SGT ODA-354 in B co 2nd Bn 3rd SFG(A) CIF in IRAQ as an Iraqi Counter-Terrorism Force (ICTF) Company SGM advisor and combat leader on many missions in Iraq and also attended the Israeli Counter-Terrorism Course as an exchange instructor.
For those of us not familiar with the acronyms with which the Army loves to speak, allow me to break this down a bit (for surely Frankie is too humble to do it himself). Frankie is a Green Beret who after extensive experience leading units in firefights in Iraq, Afghanistan, and elsewhere taught advanced firearms to his fellow Green Berets at Fort Bragg, which is one of the major bases for Green Beret/Special Forces training. As the Non-Com Officer in Charge (NCOIC) he had the highest graduation rate for the course in its history. In other words, not only does the man have a wealth of combat experience, he is one helluva a teacher as well, deeply experienced in the ways of teaching people to successfully operate in extreme adrenal state of a firefight. THIS IS A VERY RARE COMBINATION and the opportunity to learn from such a man is one to be taken.
As the headlines of our newspapers and the news programs on our TVs repeatedly attest, the flying fickle finger of fate can reach out and touch any of us at any moment be it through violence or by mishap. When you are faced with someone wounded or injured, will you have skills to bring to bear or not? With this Download/DVD you will be moving yourself forward in your readiness for such a moment.
---

Visit our ONLINE STORE for Dog Brothers stickfighting gear.