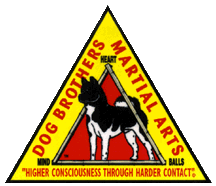 Woof!
We are excited to announce the all new Dog Brothers Martial Arts Association, which builds upon the Association that began twelve years ago. Thanks to the evolutions in DBMA as a system and in technology, the new DBMAA will offer all that it always has and much more.
BENEFITS:
DBMA Association Online Video Library: Inside the new DBMA Association you will find numerous Dog Brothers DVDs which have been broken down by technique and carefully labeled for easy navigation. There are three basic areas in DBMA: Real Contact Stick Fighting, Kali Tudo™, and "Die Less Often"™. Every month there will be new clips in these three areas from various seminars, events, private lessons, etc.
DBMA Association Forum: A discussion group like none you have ever seen. It puts a wealth of knowledge at your fingertips. As a member you will have access to the largest repository of knowledge ever compiled on DBMA. Having already been in existence for twelve years, the older lower tech Association is already a living, breathing entity ready, willing, and able to support this new step. Every new user will have twelve years of content already there waiting for him—plus plenty of material of the sort enabled by the new technology.
DBMA Association Podcast: We are working on some exciting video podcasts exclusive to our premium members! You will be able to stay current with the discussions and the sharing of ideas with all things related to DBMA Association!
Join Today! This is an incredible value. You have access to hundreds of videos and many like minded and experienced individuals with this package. Take our entire library with you wherever you have internet access! Our videos play well on desktop computers, laptops, tablets, and mobile devices.
The tuition is $30 per month or $300 per year (two months free).
Enjoy and let the learning begin!
Sample Video from our exclusive members only Die Less Often 4 series