Student Login
Instructor Login
To inquire about becoming a certified DBMA Student or Instructor contact:
Business Director – Ryan "Guard Dog" Gruhn | Email | Facebook
---
DBMA Association Certified Instructors & Affiliates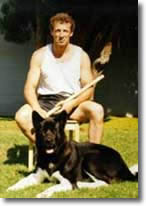 In DBMA terminology we distinguish "Guro" and "Instructor". A Guro is a member of the Dog Brother tribe and an Instructor is not. To help ensure our standards, all teaching credentials are revokable and must be maintained.
**In the integration of listings from more than one place we may have inadvertently left someone out.  There may also be out of date / missing contact information.  If you think your name should be listed or contact information updated, please contact me at ryan@dogbrothers.com**
GUROS
BLACK DOG TAGS – (Full Instructors)
California, Marin County | Antone Haley | 415-233-1519 | Email 
BROWN DOG TAGS – (Instructor Level II)
United States (Currently being updated) Around The World (Currently being updated)
RED DOG TAGS – (Instructor Level I)
United States (Currently being updated) Around The World (Currently being updated)
Instructors
United States
Arizona, Tempe | Tom "Howling Dog" Guthrie | Email
California, Hemet | Lester "Surf Dog" Griffin | 951-492-8362 | Email

California, San Joaquin Valley | 

Dean "Kaju Dog" Webster | 

(559) 816-3858

  | Email
California, 

Woodland Hills | "Dog" 

Nathan Carlen | (818) 527-KICK | Email

Colorado | Colorado Springs | 

Eric Taimanglo | 719 304 6764 | Email

Massachusetts, M

alden | Joe Dix
Virginia, Manassas | Brian "Porn Star Dog" Jungwiwattanattaporn
Russ "C-Bad Dog" Iger
Around The World
TRAINING GROUPS / GROUP LEADERS
United States
California, Torrance | David Cheng | 562-803-7114 | Email
California, Palm Springs | Michael "War Dog" Barredo | 760-409-6351 | Email
Connecticut | Russ "C-Bad Dog" Iger |  Email
Illinois, Westmont | Pete "C-Smiling Dog" Juska
Illinois, Berwyn |  Carlos "C-Maul Dog" Flores
Illinois, Champaign-Urbana | Greg Jahiel | 217.369.4135 | Email
Illinois, 

Carbondale | 

Robert and Karen Gallegly | 

618-351-0138

 | Email
Massachusetts, Boston | Greg "Cyborg" Brown | 508-740-2200
Ohio, Cleveland | Tiffany Weidendorf | Email
Dog Tobias (more info coming soon)
Around The World
Canada, Toronto | Rene "Growling Dog" Cocolo & Tyler "Dirty Dig Morin" | 4165653759 | Email
DBMA STICK FIGHTING TRAINING GROUPS