Student Login
Instructor Login
To inquire about becoming a certified DBMA Student or Instructor contact:
Business Director – Guro Guard Dog | Email | Facebook
---
DBMA Association Certified Instructors & Affiliates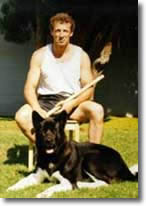 In DBMA terminology we distinguish "Guro" and "Instructor". In order to be a Guro one must be a member of the Dog Brother tribe.  In order to be an Instructor one does not have to be part of the tribe.  To help ensure our standards, all teaching credentials are revocable and must be maintained.
GUROS
BLACK DOG TAGS
United States (Currently being updated) Around The World (Currently being updated)
BROWN DOG TAGS
United States (Currently being updated) Around The World (Currently being updated)
RED DOG TAGS
United States
Around The World (Currently being updated)
Instructors
United States
Arizona, Tempe | Tom "Howling Dog" Guthrie | Email
California, Hemet | Lester "Surf Dog" Griffin | 951-492-8362 | Email

California, San Joaquin Valley | 

Dean "Kaju Dog" Webster | 

(559) 816-3858

  | Email
California, 

Woodland Hills | "Dog" 

Nathan Carlen | (818) 527-KICK | Email

Colorado | Colorado Springs | 

Eric Taimanglo | 719 304 6764 | Email

Massachusetts, M

alden | Joe Dix
Virginia, Manassas | Brian "Porn Star Dog" Jungwiwattanattaporn
Russ "C-Bad Dog" Iger
Around The World
TRAINING GROUPS / GROUP LEADERS
United States
California, Torrance | David Cheng | 562-803-7114 | Email
Connecticut | Russ "C-Bad Dog" Iger |  Email
Illinois, Westmont | Pete "C-Smiling Dog" Juska
Illinois, Berwyn |  Carlos "C-Maul Dog" Flores
Illinois, Champaign-Urbana | Greg Jahiel | 217.369.4135 | Email
Illinois, 

Carbondale | 

Robert and Karen Gallegly | 

618-351-0138

 | Email
Massachusetts, Boston | Greg "Cyborg" Brown | 508-740-2200
Ohio, Cleveland | Tiffany Weidendorf | Email
Virginia, Charlottesville | Michael "War Dog" Barredo | 760-409-6351 | Email
Dog Tobias (more info coming soon)
Around The World
Brazil, Rio de Janeiro | Daniel Villela and Daniel Coutinho | +55 21 993589632 | Email
Canada, Toronto | Rene "Growling Dog" Cocolo & Tyler "Dirty Dig Morin" | 4165653759 | Email
DBMA STICK FIGHTING TRAINING GROUPS