Frank Shamrock on the March 2008 Cover of Gladiator Magazine!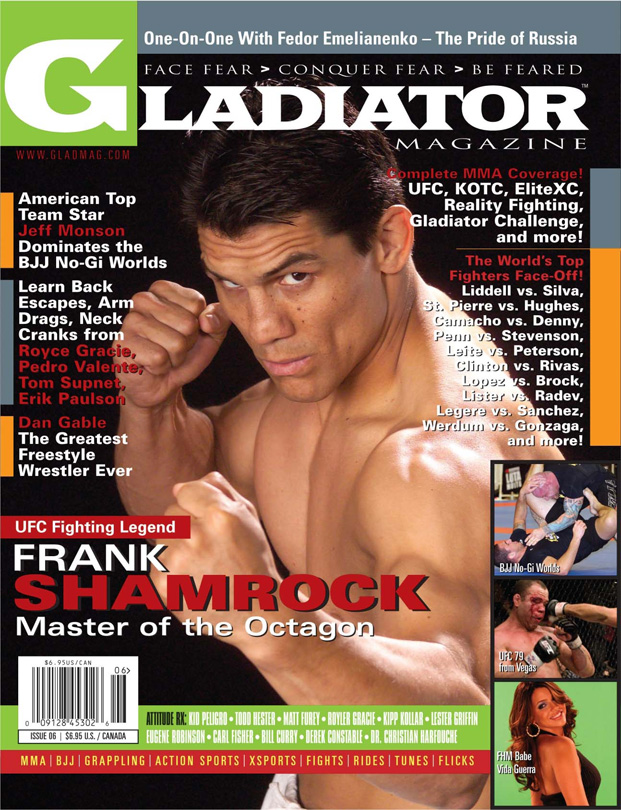 Mixed martial arts and UFC fighting legend Frank Shamrock, called "the greatest fighter in the history of the Octagon" by UFC creator Art Davie, will appear on the March 2008 cover of Gladiator Magazine, the number one periodical for mixed martial arts, Brazilian jiu-jitsu, submission grappling, and combat sports.
This insightful and fascinating story, written by Gladiator publisher and editor-in-chief Todd Hester, explains how Frank Shamrock was able to transform himself up from a troubled youth to an international fighting star under the guidance of adoptive father Bob Shamrock and the influence of older brother Ken Shamrock.
From his first-ever MMA victory in Japan against Bas Rutten, after training for less than a year, Shamrock talks about the trials and tribulations that led to him being signed to fight the greatest wrestler to ever enter the cage, Olympic champion Kevin Jackson, in UFC Japan. Widely expected to lose, Frank Shamrock shocked the world by armbarring Jackson in just 14 seconds, destroying the widely-held belief that mixed martial arts fighters were not elite athletes and changing the sport of MMA forever. Shamrock also talks about his upcoming March 27 fight in San Jose, CA against Cung Le in Strikeforce.
The March issue of Gladiator also contains interviews with wrestling legend Dan Gable and Pride champion Fedor Emelianenko, now fighting for the new M-1 organization. There is also extensive MMA event coverage on UFC, KOTC, Gladiator Challenge, and Reality Fighting, grappling coverage with the BJJ No-Gi Worlds and NAGA 2007 Ranked final standings, instruction from Erik Paulson, Royce Gracie, Tom Supnet, and Royler Gracie, and special features on Dan Lambert's American Top Team, MMA.tv founder Kirik Jenness, MMA promoter-turned-movie-producer Frederico Lapenda, UK coverage from Carl Fisher, and the hot new TV show from former KOTC producer Bud Brutsman starring FHM mega-babe Vida Guerra (complete with sizzling Vida photos!).
If that's not enough you'll also get a huge dose of your favorite columnists and writers including Kid Peligro, Matt Furey, Kipp Kollar, Carl Fisher, Dr. Christian Harfouche, Lester Griffin, Bill Curry, Eugene S. Robinson and more! Make plans now to visit your nearest Barnes and Nobles or other newsstand or bookstore to pick up the March issue of Gladiator Magazine. Gladiator is also available in Canada, UK, Australia, Europe, New Zealand, and throughout the world. It's also available by subscription by visiting www.gladmag.com, www.jiujitsuprogear.com, or www.bjjmart.com. Make plans today to get the March 2008 Gladiator when it hits the stands!