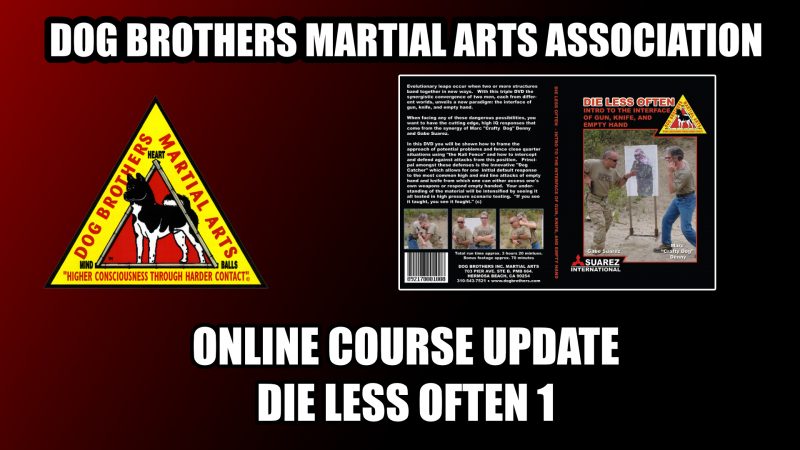 Greetings DBMA Association Members!
Online Vid Lesson Archive Update.
Unit 1 Zero To Six
Unit 2 Footwork Matrix
Unit 3 Intro To The Kali False Lead
Unit 4 Empty Hand Theory
Unit 5 Brachial Stun
Unit 6 Eye Jab
Unit 7 The Kali Fence From False Lead
Unit 8 Street Smarts
Unit 9 Footwork
Unit 10 Gun Theory
Unit 11 Pistols
Unit 12 Close Quarters Combat
Unit 13 Preemption
Unit 14 Head Sumbrada
Unit 15 The Dog Catcher
Unit 16 The Three Basic Sectors
Unit 17 Dog Catcher To Access Your Weapons
Unit 18 Scenario Training
Unit 19 Die Less Often Empty Hand
Unit 20 Common Mistake
Unit 21 Die Less Often Gun
Unit 22 Defending Your Woman
Unit 23 End Credits
Unit 24 C-Frankfurter
Unit 25 Dogzilla
Unit 26 C-Poi Dog
Unit 27 True Dog
Enjoy!