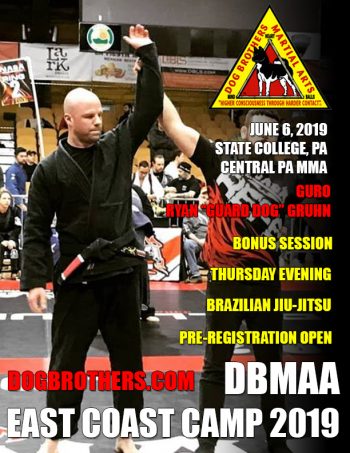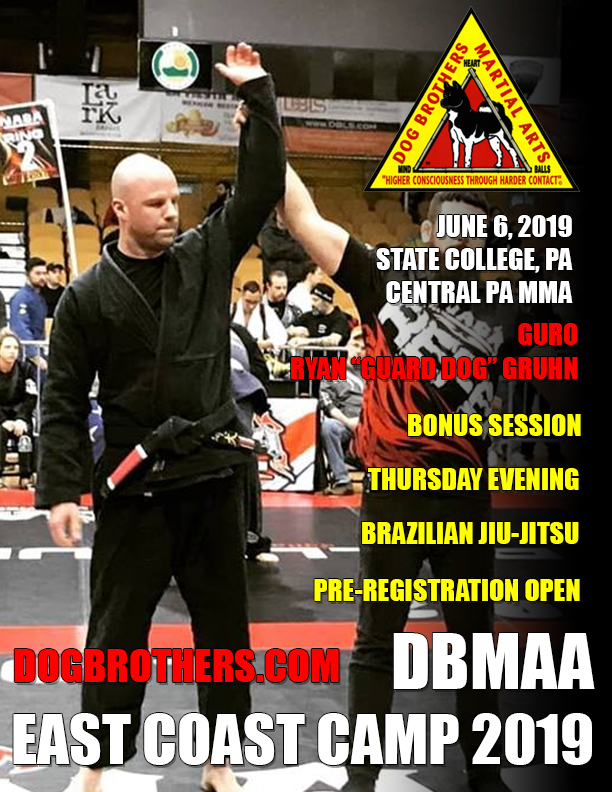 Contact:
Email | Facebook | Instagram | Web Site | Wikipedia
Certifications:
Brazilian Jiu-Jitsu – "Professor" / Black Belt
Muay Thai – "Ajarn" Senior Instructor
Dog Brothers Martial Arts – "Guro" / Full Dog Brother
Combat Submission Wrestling – Full Instructor
Jeet Kune Do / Filipino Martial Arts – Full Instructor
About:
Ryan Gruhn has been studying the combat arts for over two decades starting his training in 1993. In this time he has achieved instructor status in seven different martial arts. He is the head instructor at Central PA Mixed Martial Arts teaching the Striking/MMA, Brazilian Jiu-Jitsu, Women's Kickboxing, Reality Based MMA, and Youth Martial Arts classes. He is the Central PA and PA State representative for the World Thai Boxing Association and is the only certified Muay Thai instructor in the area. Ryan is the founder and head instructor for "Youth Martial Arts", a system of multiple styles catered to children and young adults. To date, Ryan is the only person ever to hold a Black Belt in Jiu-Jitsu he has while simultaneously holding the title of Ajarn in Muay Thai and Guro in Dog Brothers Martial Arts.
Ryan is a Black Belt under Erik Paulson in Brazilian Jiu-Jitsu and has competed in numerous Brazilian Jiu-Jitsu tournaments placing in the majority of tournaments he has attended. He has competed at every belt level before Black and podeumed at those tournaments.
He is one of ten individuals world wide who have been certified as a "Guro" in Dog Brothers under Punong Guro Marc "Crafty Dog" Denny and also a member of the tribe receiving the name of "Guard Dog." CPAMMA is considered a "Den" of the Dog Brother's Pack and goes by the name of "Guard Dog's Den." Ryan's main instructor as a child into his teen years was Bill Gebhardt, owner of the State College Martial Arts Academy.
Ryan is a certified coach with USA Boxing, a certified Full Instructor in Jeet Kune Do & Filipino Martial Arts under Sifu Kevin Seaman, and one of less than fifty people who have obtained the rank of Ajarn in Thai Boxing under Ajarn Surachai "Chai" Sirisute.
Jiu-Jitsu Belt Ranking:
1996 – Started under Erik Paulson
2008 – Blue Belt from Ricardo De La Riva Goded
2010 – Purple Belt from Shawn Williams
2012 – Brown Belt from Shawn Williams
2017 – Black Belt from Erik Paulson
Competitive Rankings:
Competitively Ryan has been fighting in Real Contact Stick Fighting events since 2005. With over thirty fights to his name he has ended a number of fights by submission, KO and TKO. Ryan fights in the Dog Brothers ~ "Gathering of the Pack" on a biannual basis in Los Angeles, California and Toronto, Canada.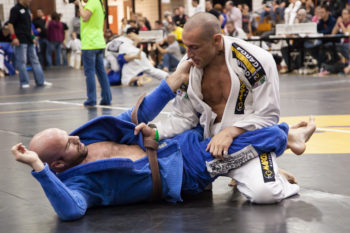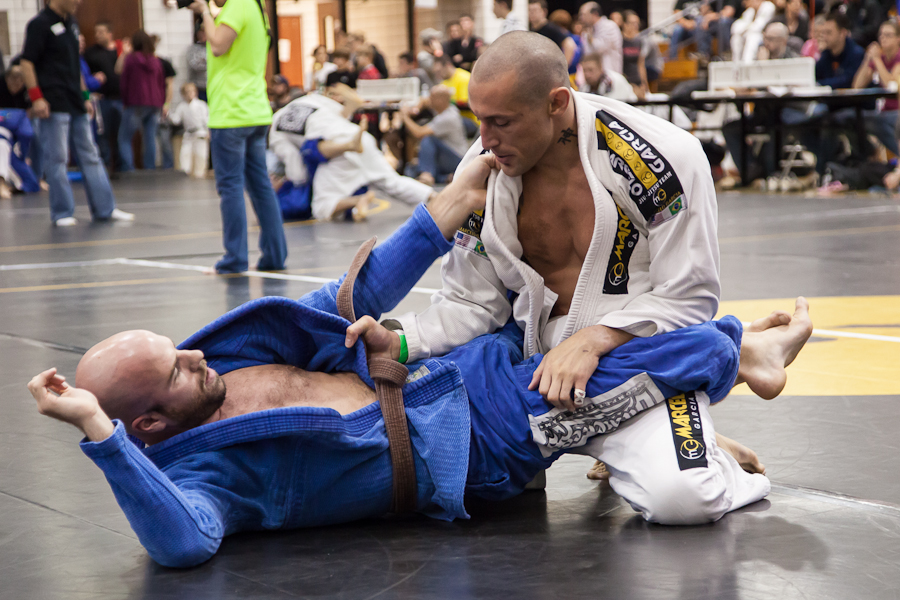 Some notable gatherings and tournaments he has fought at:
October 2005 – MD Open Stick Fighting Tournament (1st Place)
November 2005 – Open Gathering – Los Angeles
November 2006 – Open Gathering – Los Angeles (Received "Dog")
November 2007 – Open Gathering – Los Angeles
April 2008 (Tribal Gathering) – Los Angeles
April 2009 (Tribal Gathering) – Los Angeles
September 2009 – Los Angeles (Received "C-Guard Dog")
2010 – 1st Annual Beat the Crap ouf ot Cancer
2011 – 2nd Annual Beat the Crap ouf ot Cancer
February 2012 (1st Canadian) – Toronto (Received "Guard Dog")
Dog Brother's Gatherings are known for being a true "Mixed" Martial Arts event where there are no rules or weight classes. Gruhn has been known to fight up to four times in one day at Gatherings and has led a number of other CPAMMA fighters to Dog Brothers gatherings. Read more about his experiences here: http://dogbrothers.com/bjjforstickfighting/
Student Achievements:
Ryan corners fighters, both male and female in Boxing, Muay Thai, Brazilian Jiu-Jitsu, Real Contact Stick Fighting and Mixed Martial Arts on a regular basis. He has led a number of fighters to successful competitive carriers in their respective style producing multiple Golden Gloves State Champions and title holders in Boxing, Muay Thai and MMA. Several of Ryan's previous students have reached the Ultimate Fighting Championships (UFC) which is considered the highest level of fighting in MMA. Ryan's Brazilian Jiu-Jitsu students have earned multiple tournament wins under Ryan's guidance at all belt levels and all divisions. Ryan has helped multple CPAMMA fighters bring home Championship Belts at the "Tournament of Champions" in Iowa. Ryan has also led multiple fighters to the Dog Brothers Gatherings some of which earning the title of "Dog" and "Candidate Dog."